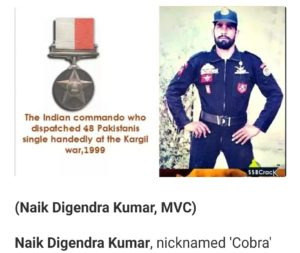 In 1987, the soldier was posted in Sri Lanka as a member of IPKF. He had been working as a personal bodyguard of an Indian General. One day while he was sitting in an open jeep, an LTTE terrorist threw a grenade at the jeep. He caught it and threw it back to the terrorist. The terrorist died due to the grenade explosion; his head was blown off into pieces. After that incident, the soldier was nick-named 'Cobra' by his colleagues.
Come June 1999. The 'Cobra' was a member of the commando team of 2 Rajputana Rifles. The team was tasked to recapture Point 4590 at Tololing. The team was personally briefed by the then General V P Malik due to the importance of this task. The cobra promised General Malik that he would hoist Indian Tri-colour at the top of Point 4590.
The commando team comprising Major Vivek Gupta, Subedar Bhanwar Lal Bhakar, Lance Naik Jasvir Singh, Naik Surendra, Naik Chaman Singh Tewatia and other ORs. The 'Cobra' was the commander of the LMG group of the team.
The team moved upwards for sixteen hours and came in contact with the enemy. The enemy was in a well-entrenched position in eleven bunkers. UMG, HMG and MMGs were kept at strategic positions. Pakistani machineguns started firing. Subedar Bhanwar Lal, Lance Naik Jasvir, Naik Surendra and Naik Tewatia were martyred.
The hero of this story, the soldier, got injured. He received his first bullet in his arm. Unmindful of his injury, he went on firing. He destroyed the first of the eleven enemy bunkers with a grenade. The do-or-die fighting continued near a cliff. Major Vivek Gupta, the leader of the team was also martyred. The 'Cobra' finished his ammunition.
He took out his pistol and started hurling grenades. He threw eighteen grenades in eleven bunkers. He led the remaining soldiers. He received three bullet wounds and eighteen bullets in his bullet-proof jacket.
Incredibly, the enraged 'Cobra' killed 48 enemy-soldiers including Pakistani Major Anwar Khan on the night of 13th June 1999. When all the bullets of his pistol were exhausted, he killed Khan with his bare hands.
He himself destroyed the last enemy bunker and was the first to reach Point 4590. He fulfilled his promise. He hoisted Indian Tri-colour and only then he fell unconscious. His colleagues brought him back in critically wounded condition.