Health Care Lawyer as a Profession.
By: Madhuri Sharma.
Assistant Professor
Dept of Law
Health Care law is a law which is concerned with the person who receives health care and who pays for it. Health Care is surprisingly the most complicated area of law because of its being expensive in nature. In united states of America it is growing at a very large level.
The supreme court held that article 21 of the Constitution of India guarantees protection of life and personal liberty to every citizen. This also states that the person should live with human dignity. right to health is integral to the right to life and the government has a constitutional obligation to provide health facilities. Right to healthcare provides each citizen.  The right to health care services includes free diagnosis of patients, outpatient care, medicines and hospitalization through a network of public hospitals and on the other hand enlisted private hospitals.
Health Care law is a fastest growing field as there is lot of legal work to be done with the healthcare industry. It covers  subjects like health related insurance matters, the rights of patients, and their  mental health. Health Care lawyers takes a great efforts in helping individual to eliminate the complex laws. They deal with the rights of patients and responsibility of healthcare providers.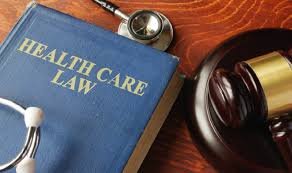 Health Care Lawyer: Professional requirements 
Bachelor degree is the basic requirement this is a four year program and students would get the benefit from completing their studies in healthcare administration, health studies or another related field. Next step is to complete juris doctor program at a law School. in first year the students enjoy basic law subjects like IPC, CrPC and contracts. During last 2 years students complete their internships. Master of laws (LL.M) in healthcare could also be pursued. In this expert is required in a specific area of law.
One can join a law firm while others can choose to practice also. Health Care lawyers can work for a law School, medical school or research institutions. Services are provided to local, state and Federal government. Lastly health Care lawyers can work in some hospitals, pharmaceutical companies.
Conclusion
Health law such a big growth field with an incredible amount of opportunities specially in the coming years. Health law is an interesting and useful area of law too. Everyone has to touch the health care system at some point in their lives.